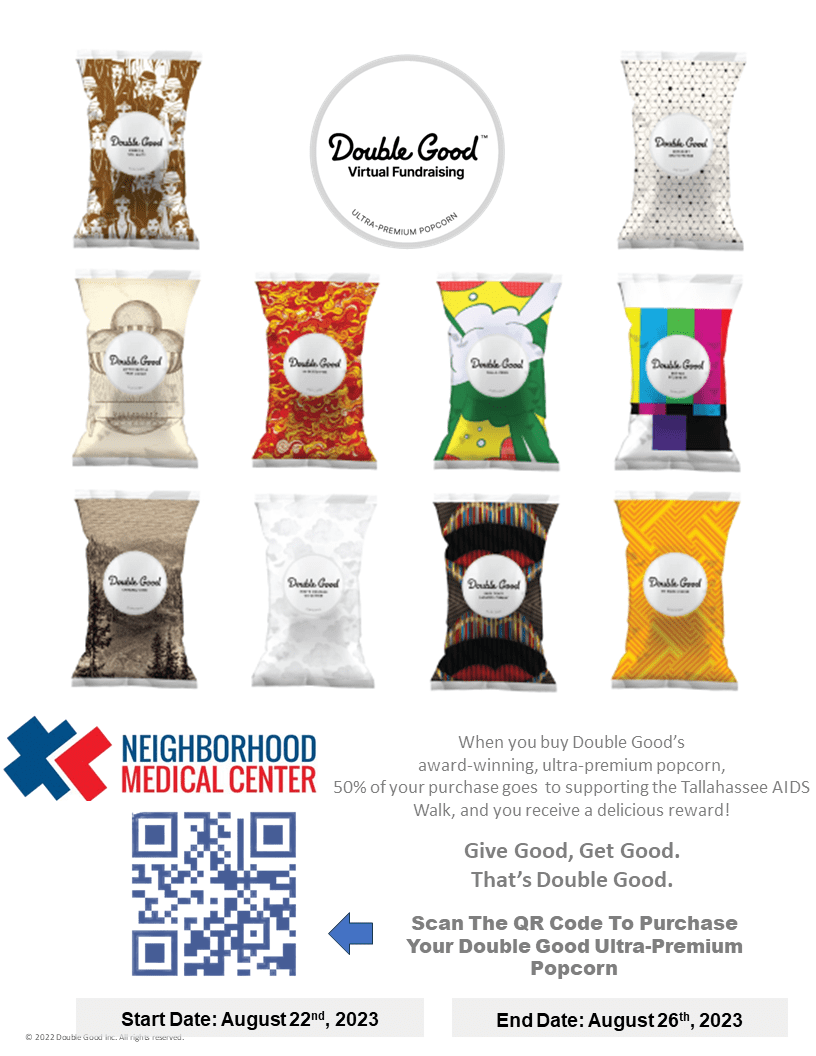 Dear Friends and Supporters,
We're excited to announce an exciting way to contribute to the fight against HIV/AIDS in the Tallahassee community – the 2023 Tallahassee AIDS Walk Popcorn Fundraiser! 🚶‍♀️🚶‍♂️
As we come together to raise awareness and funds to combat the further spread of HIV/AIDS, we invite you to enjoy some delicious Double Good Popcorn while making a meaningful impact. Here's how you can help:
🍿 **Purchase Double Good Popcorn**: Treat yourself and your loved ones to award-winning, ultra-premium popcorn in a variety of flavors. Whether you're a fan of sweet or savory, there's something for everyone. With each bag you buy, you're contributing directly to the Tallahassee AIDS Walk fund. The fundraiser will be active from August 22nd to August 26th.
📣 **Spread the Word**: Encourage your friends, family, and coworkers to join in the fun! Share this fundraiser on social media, through emails, or by word of mouth. The more people we involve, the bigger our impact.
👏 **Why Your Support Matters**: Every dollar raised through this fundraiser goes directly toward supporting those affected by HIV/AIDS in our community. Your contribution provides vital services, resources, and education to help individuals lead healthier lives.
🏆 **Join the Movement**: By participating in the 2023 Tallahassee AIDS Walk Popcorn Fundraiser, you're becoming a part of a powerful movement to end HIV/AIDS. Together, we can make a difference, one popcorn bag at a time.
📅 **Save the Date**: The Tallahassee AIDS Walk is on Thursday, September 21, 2023, and we'd love to see you there, supporting the cause in person. Mark your calendars and get ready to walk with purpose!
🙏 Your support matters more than ever. Let's come together as a community, enjoy some scrumptious popcorn, and make a lasting impact in the fight against HIV/AIDS. Together, we can make a difference!
🛒 To order your Double Good Popcorn or learn more about this fantastic fundraiser, visit https://popup.doublegood.com/s/si9x0k35 today!
Thank you for your generosity and commitment to a world without AIDS.
With gratitude,
Neighborhood Medical Center
For additional information, feel free to contact:
Mathias Sweet at (850) 688-0914 or Msweet@neighborhoodmedicalcenter.org
Joseph Ward (850) 577-1562 or Jward@neighborhoodmedicalcenter.org