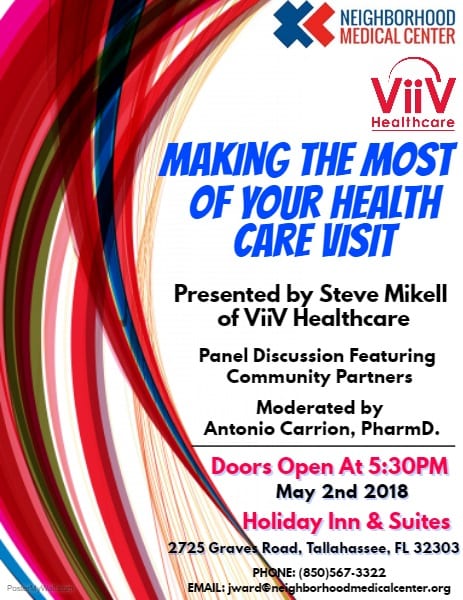 Our community knows how important it is to maintain an active role in our own health. On Wednesday, May 2, 2018, Neighborhood Medical Center  will be hosting a "Making The Most of Your Health Care Visit" presentation by ViiV Healthcare. Doors open at 5:30pm and the event will end at 8:30pm at the Holiday Inn & Suites, 2725 Graves Road, Tallahassee, Florida 32303. This FREE event will provide fun, educational components, speakers, and materials about how you can make the most of your health care visits.
Please come out and help Neighborhood Medical Center spread the word to patients, family, friends, and community members about make the most of your health care visits. If you have any questions regarding this information, feel free to contact:
Mathias Sweet at (850) 688-0914 or msweet@neighborhoodmedicalcenter.org
Joseph Ward (850) 567-3322 or Jward@neighborhoodmedicalcenter.org
Thanks you and we hope to see you there.